Gamma+
Gamma+ Absolute Hitter & Gamma+ Absolute Zero Foil Shaver Combo Special!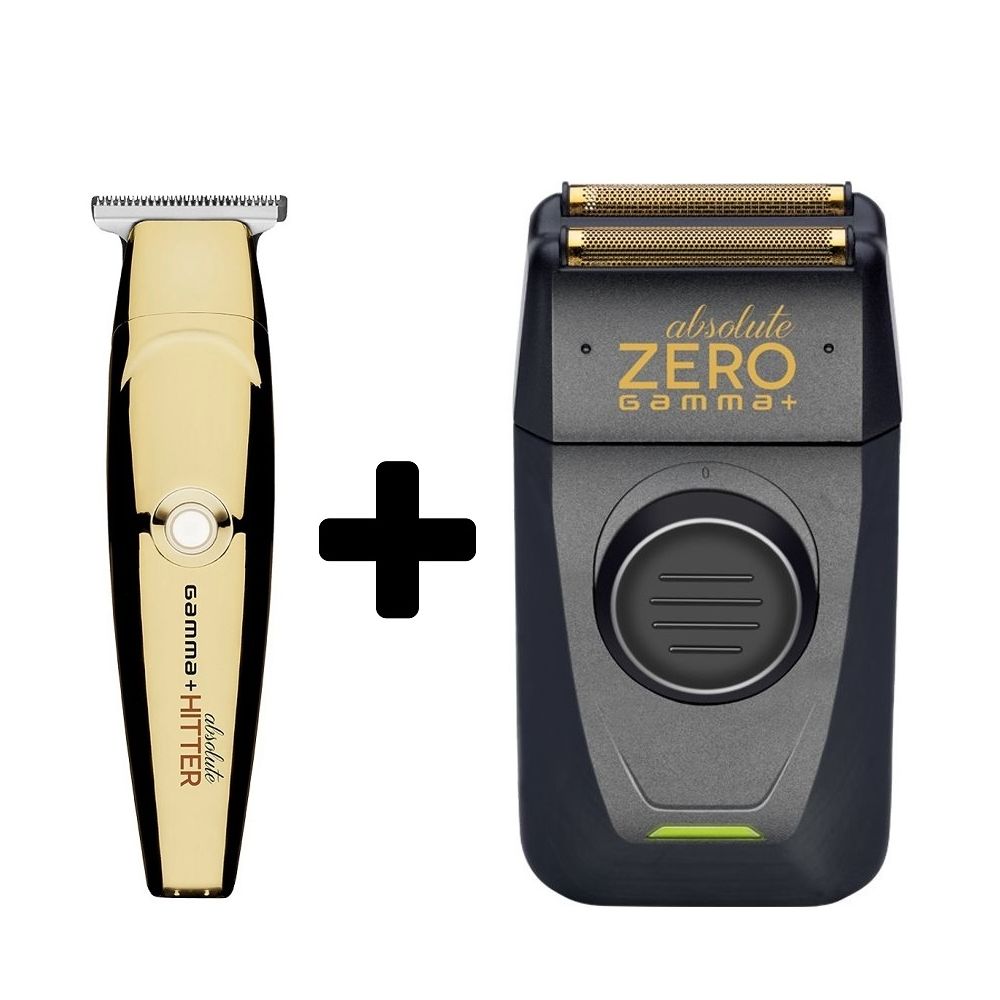 Gamma+

The Rich Barber On The Money 1 Min Blade Modifier + Blade Setter White (Andis Slimline Pro Blades) Combo
Gamma+ Absolute Hitter & Gamma+ Absolute Zero Foil Shaver Combo Special!
Gamma+ Absolute Hitter & Gamma+ Absolute Zero Foil Shaver Combo Special!
CLOSE
FREE SHIPPING ELIGIBLE
How do I take advantage of Free Standard Shipping?
All Free shipping products must be noted as Free Shipping.
All other products will be charged for shipping.
Your order must contain Free Shipping Eligible Products only to receive Free Shipping. The inclusion of any other Non-Free Shipping Products may result in additional shipping charges.
Free Shipping Only Applies To The Physical Addresses Within The Continental U.S., Excluding Post Office Boxes (P.O. BOX Addresses), HI, AK, VI, PR, APO/FPO Addresses And Outside The U.S.
Still, have questions? You'll find additional information in our Shipping Info section at the bottom of any page.
was
$209.95
Special Price
$119.95
Gamma+ Absolute Hitter & Gamma+ Absolute Zero Foil Shaver Combo Special!
1) Gamma+ Absolute Hitter Professional Cord / Cordless Modular Trimmer #HCGPAHTS (Dual Voltage)
PROFESSIONAL CORD/CORDLESS MODULAR TRIMMER WITH BLACK DIAMOND BLADE
First ever fully modular Absolute Hitter trimmer with removable drop-top, Universal micro USB charger, and Black Diamond Carbon blade. Includes full Gold, Rose Gold, and Chrome body kits to create 12 different custom modifications.
240 MINUTE CORDLESS RUN-TIME AND MINI USB CHARGING
Lithium-ion battery delivers 4-hours of cordless run-time with a 2-hour rapid charge. Pass–through charging stand or universal mini USB charger for worldwide use.
REMOVABLE DROP TOP
Removable drop top option for skeleton style design to expose the blade for cooler operation, better sight line, easier cleaning, and enhanced precision.
ZERO GAP BLACK DIAMOND CARBON BLADE
Fully adjustable blade can be easily zero gapped for the closest cut and finish. Highest quality Black Diamond Carbon DLC blade stays cooler, rust free, and sharper longer. Scientifically engineered to hit without irritation making the Absolute Hitter ideal for sensitive skin.
THE TOTAL PACKAGE
Supercharged Rotary motor cuts through any hair type in a single tap. Low battery notifications beep once at 10% battery life, twice when 5% battery life, and beeps three times when 3% battery life remains.
Includes: 1 Year Warranty, 1 siliver trimmer, 2 extra upper housing (gold & rose gold), charging stand, mini USB cord, 3 guards, & cleaning/maintenance kit. Convenient mini screwdriver keychain for blade regulation and custom body modifications.
2) Gamma+ Absolute Zero Foil Shaver #GRAZF
CLOSEST SHAVE WITH NO IRRITATION
The ultimate in Italian style, quality and performance. This special edition professional Finishing Foil Shaver offers ultra-thin and hypo-allergenic gold titanium foils and staggered, independently floating cutters. Its advanced design gives a closer, smoother and more even shave that will not irritate the skin.
Includes 2 spare cutters, multi-function USB charger, integrated and retractable precision trimmer, gold titanium hypo-allergenic foils, and 1-year warranty.
• 120 minute cordless operation
• Lithium ion battery
• Rapid recharging in just 30 minutes
• Staggered, independent floating foils and cutters
• Lightweight - less than 5 ounces
• Gold titanium hypo-allergenic foils
• Integrated, retractable precision trimmer
• Effortless foil and cutter replacement and cleaning
• Multi-function USB charger
• Corded or cordless operation
• Includes 2 spare cutters
• 1-year warranty
YouTube : Gamma+ Absolute Hitter First Impressions (Gamma Plus)
YouTube : ABSOLUTE ZERO GAMMA SHAVER REVIEW (BY ELIJAH THE BARBER)
Customer Reviews
Top customer reviews
We found other products you might like!